What Is It Like to Fly on United's Upgraded Airbus A319?
United Airlines has introduced a refurbished 26-year-old Airbus A319 that features the airline's latest United NEXT First Class cabin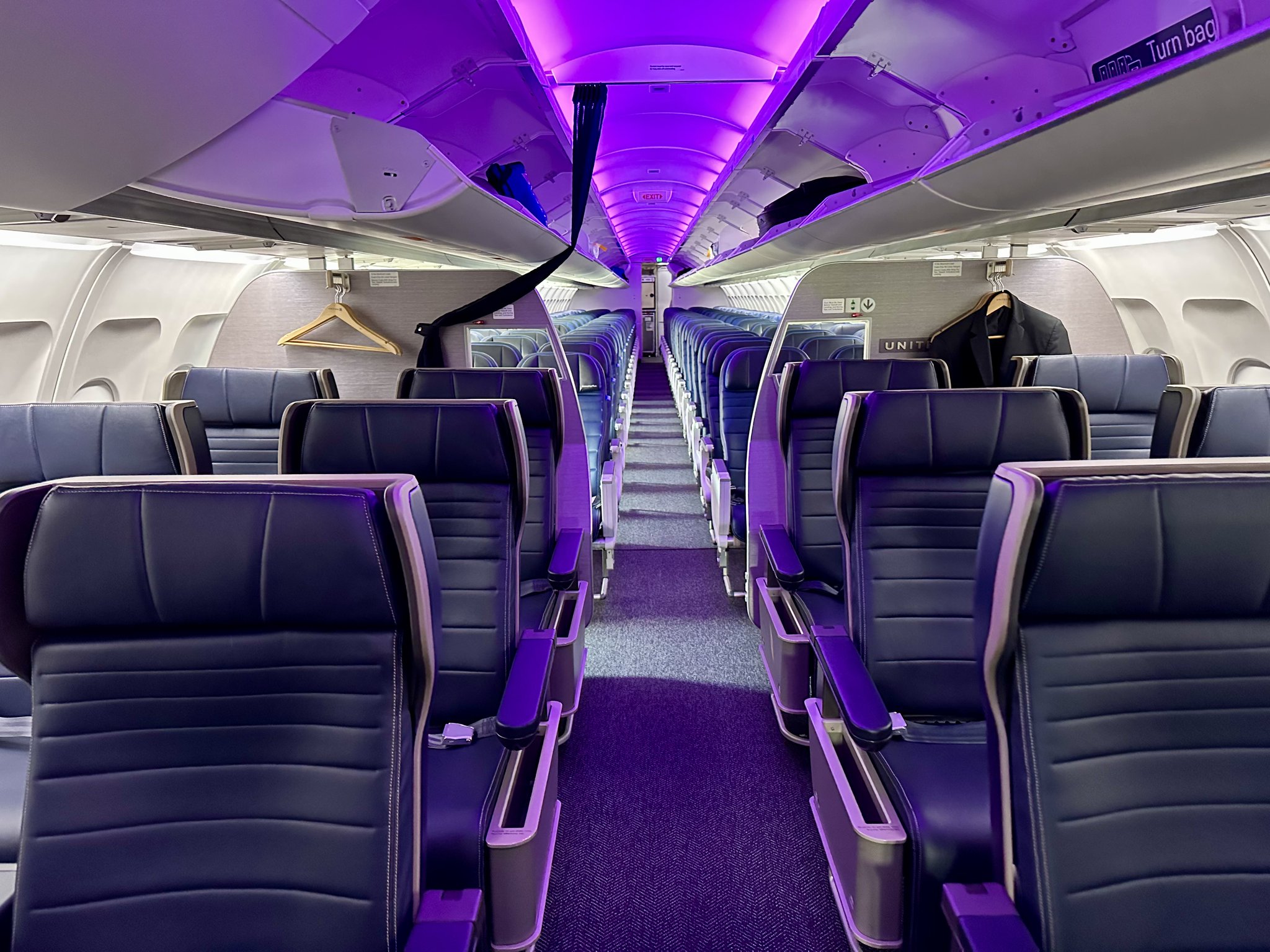 In June 2021, United Airlines made waves in the aviation industry with its announcement of acquiring a significant number of brand-new Airbus and Boeing narrowbody aircraft. These planes were set to feature seatback entertainment systems.
United embarked on an ambitious project to retrofit its entire mainline fleet with new cabins that boasted larger overhead bins, LED lighting, and comprehensive seatback entertainment within five years. This program, aptly named United NEXT, promised to elevate the passenger experience.
While United had taken delivery of numerous Boeing 737 MAX planes with these cutting-edge cabins over the past two years, no aircraft in its existing fleet had yet undergone the retrofit process due to supply chain challenges.
However, a notable milestone occurred when N801UA, a 26-year-old Airbus A319, returned to service in May after spending several months as the prototype for United's new cabin. This signaled the commencement of the extensive retrofit initiative, which would revolutionize United's passenger experience. The airline wasted no time implementing these retrofits, with three Airbus A319s and one A320 (as of July 2023) currently flying with the new cabin.
Residing in the Mexican city of Leon, Guanajuato, I frequently travel the BJX-IAH route operated by United's Airbus A319 fleet. It was a pleasant surprise when I checked the United app a day before my flight and discovered that N801UA—one of the newly retrofitted aircraft—had been assigned to operate my journey, giving me the unique opportunity to experience firsthand the future of United's Airbus fleet.
Check-In
Ten days after booking my flight, I received a delightful surprise in the form of a text message notifying me of an upgrade. As a Premier 1K member on United, this perk was made possible. To my satisfaction, I was automatically assigned seat 3F, which I typically prefer due to its window location in the last row, offering a better view of the aircraft's wings.
Utilizing the United app, I swiftly checked in for my international flight, a process that took a mere 3-4 minutes as the system verified my passport information and issued my boarding pass. Thanks to this seamless check-in experience, I bypassed the traditional check-in counter upon my arrival at Houston.
Boarding and Cabin
Arriving at the gate 45 minutes before departure, just 10 minutes prior to the published boarding time, I observed the pre-boarding procedure. Beginning at T-40, customers with disabilities, Active Duty personnel, United's invite-only Global Service members, families with infants aged two and under, and finally United's Premier 1K customers were called for pre-boarding.
As a Premier 1K customer, I approached the podium with passport in hand, only to be informed that it was unnecessary as United would be utilizing biometric scanners. A quick glance at the camera granted me access to board without presenting my boarding pass or passport—a neat and efficient process.
Stepping onto the aircraft, I immediately noticed the transformed atmosphere. Bathed in a deep purple hue, the cabin radiated a modern vibe. The first thing the flight attendant noticed was my excitement in capturing photos, as it was also her inaugural experience working on the NEXT Airbus.
In addition to the captivating mood lighting, I was impressed by the expansive overhead bins, reminiscent of those found on the 737 MAX. United effectively communicates the increased bin capacity through text messages and signage.
The introduction of seatback screens on the Airbus fleet caught my attention as well. Available at every seat throughout the cabin, these new additions also offered Bluetooth audio capabilities—an exciting upgrade. These modern features made the 26-year-old A319 feel like a brand-new aircraft, aligned with United's latest fleet offerings.
The Seat
United seized the opportunity to unveil a fresh First Class seat design on the Airbus fleet, tailored to align with the airline's brand standards. The seats were a modified version of their older First Class seats, which were introduced in 2015. Enhancements included a hard shell seatback with privacy wings, reminiscent (albeit smaller) of those found on Delta's A321neo. Additionally, the seats boasted a new cradle recline and improved padding.
Upon settling into seat 3F, I immediately noticed the enhanced padding, which provided a noticeably more cushioned experience compared to the previous-generation seats on the 737 MAX. The screen size impressed me, measuring an impressive 13 inches. The seat layout remained similar to previous versions, with an in-flight entertainment (IFE) remote available at each seat, as well as individual USB-C and power outlets.
Conveniently, the armrests featured three separate storage compartments, allowing for easy organization of personal belongings during the flight. I opted to store my cables in one of these compartments for better organization. Additionally, a retractable drink tray was available in the central armrest.
The Flight
With the introduction of seatback screens, the traditional manual safety demonstrations were replaced with United's "Safety is Global" video, which was broadcasted throughout the cabin. Following the video, the cabin was bathed in a calming deep blue mood lighting, maintaining this ambiance for the duration of the flight.
United offers my favorite in-flight entertainment system within North America, and as a frequent traveler with the airline, I have had ample time to explore its offerings. The extensive selection of movies includes a wide range of genres, with monthly updates introducing new releases and timeless classics.
In terms of TV options, I was pleasantly surprised to discover that many shows offered at least half a season's worth of episodes. However, I was disappointed by the absence of live TV, a feature available on a significant portion of United's 737 NG fleet.
Aviation enthusiasts like myself will appreciate the return of "Channel 9," now officially known as "From the Flight Deck." This audio channel allows passengers to listen in on air traffic control (ATC) communications. While I cannot confirm whether this feature is fully functional on the retrofitted aircraft, its reintroduction is a welcomed addition.
The entertainment system itself is intuitive, allowing for quick glances at the flight map without pausing the current selection. It also provides the option to minimize the current selection to browse other sections, as well as automatically play the next episode in a series or suggest movies with similar themes and shorter durations than the remaining flight time.
Flight attendants kindly offered complimentary wired earbuds to those in need, although this should not be necessary for passengers with Bluetooth headphones. The Bluetooth pairing process on the Airbus fleet appeared to be significantly improved compared to the beta version on the 737 MAX, with faster connection and improved volume capabilities.
In the past, I experienced mid-flight Wi-Fi disruptions on United's flights to Mexico. However, I am pleased to report that a stable Wi-Fi signal was available throughout the entire flight, priced at a flat fee of $8 for United MileagePlus members, $10 for non-members, and complimentary for select T-Mobile plan holders.
It is worth noting that unlike the MAX fleet, these retrofitted aircraft were not equipped with high-speed Wi-Fi, which may result in occasional restrictions in signal strength.
Meal Service
United's policy stipulates that meals are provided on flights covering a distance of 800 miles or more. Unfortunately, the Houston to Leon route falls slightly short at a distance of 728 miles, as indicated by the United app: "Meals are not offered for this flight."
However, shortly after navigating through a few bouts of turbulence during ascent, the attentive flight attendant sprang into action, offering a round of drinks followed by a snack basket containing six different options. Opting for a coffee, a pack of almonds, and an "immune citrus burst" beverage, I found the offerings satisfying.
Throughout the flight, the flight attendant regularly traversed the aisle every 10-15 minutes, ensuring refills were offered and attending to passengers who were asleep. After ensuring all passengers had the opportunity to explore the snack basket, she made a second round, but by that time, the basket was nearly depleted.
Verdict
My experience onboard United's retrofitted Airbus A319 was truly elevated and exceeded my expectations. The airline's United NEXT initiative to retrofit its entire mainline fleet with upgraded cabins and seatback entertainment systems has brought about a significant transformation in the passenger experience.
From the seamless check-in process to the efficient and biometric-based boarding procedure, United's attention to detail and modernization efforts were evident. The introduction of seatback screens with Bluetooth audio capabilities was a standout feature, making the 26-year-old A319 feel like a brand-new aircraft. The enhanced padding and 13-inch screen size in the first-class seats provided a comfortable and immersive experience.