Sheila Johnson, Salamander Collection CEO, Shares Her Journey of Success in New Memoir
The first African American woman billionaire thrives on proving people wrong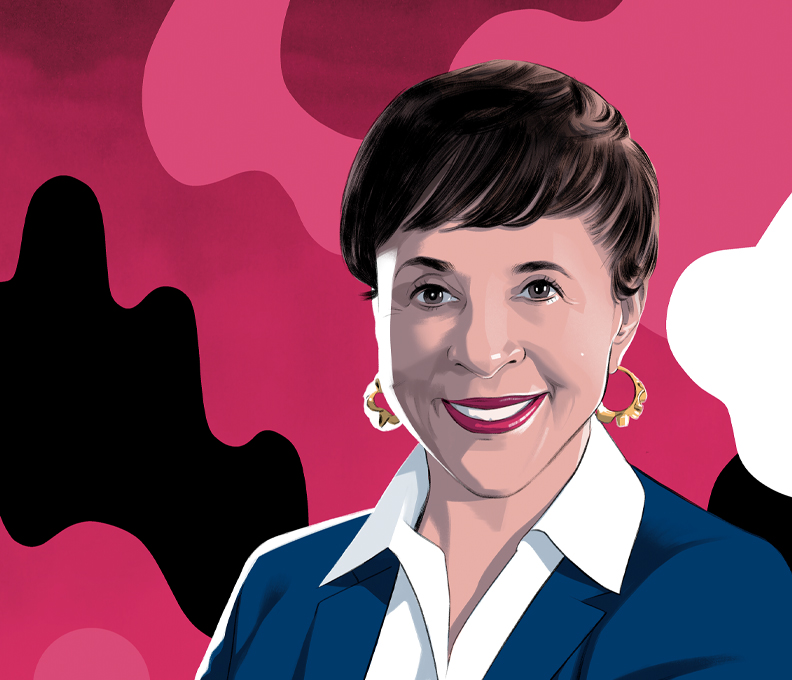 Sheila Johnson never planned on being a hotelier. But after a storied career as cofounder of Black Entertainment Television, Johnson discovered her next chapter in a small, idyllic Virginia town approximately 90 minutes west of the nation's capital. Upon relocating from Washington, D.C., to Middleburg, Virginia, she thought the area could use an "economic engine," and Salamander Middleburg—a 340-acre five-star destination resort and spa—was born. Today, Johnson is the CEO of Salamander Collection, which is celebrating its 10th anniversary this year and includes the resort in Middleburg as well as six other luxury hotel and resort properties in D.C., Charleston, Aspen, Palm Harbor, Jamaica and Anguilla.
"All my life I have traveled," she tells Business Traveler. "When I was a concert violinist, I traveled the world and stayed in some of the finest hotels. And that has always stuck with me. I felt because I had such a rich background in traveling that I knew exactly what I wanted to do."
But that doesn't mean Johnson was without naysayers who didn't believe she would flourish. However, the multifaceted entrepreneur, who is the first African American woman billionaire, is accustomed to being underestimated and thrives on proving people wrong. In an industry that is still overwhelmingly white and male—or "white men in black suits," as Johnson says—it's safe to say she stands out as a Black woman.
"You don't see people like us in the hotel business," she notes. "I wanted to create a company that not only celebrated diversity, but I also wanted people to see diversity at the resorts, with everybody feeling welcome."
Johnson says that she'd heard from other Black people about how they didn't feel welcomed or included at other vacation destinations. It's a truth that dates back to the time of Jim Crow laws in the 1930s, when Victor Green, a Black postal worker from Harlem, first published The Negro Motorist Green Book, a go-to guidebook for Black travelers listing rest stops and hotels serving African Americans.
"I really felt as though I could be a good leader and role model by building a company that celebrated diversity and bringing in a clientele that will continue to support us," she says. For Johnson, diversity and inclusion is more than an initiative—it's the foundation on which Salamander Collection is built. Take, for example, The Family Reunion, an annual multiday summertime gathering that boasts culturally rich programming featuring some of the best and brightest Black talent in food and hospitality, such as Kwame Onwuachi, Carla Hall, Rodney Scott and Bryan Furman.
"I am creating content programming that is really separating us from all the other companies out there, and this is key," she says. "I can create my own playground through the hospitality business. It's not just putting heads in beds, but bringing heads to beds for a purpose. That experience is what Salamander is all about."
In addition to her hotel collection, Johnson is the only African American woman to have a principal shareholder stake in three professional sports teams: the Washington Wizards, Capitals and Mystics, for which she serves as president and managing partner. Earlier this fall, Johnson also became a published author with the release of Walk Through Fire: A Memoir of Love, Loss, and Triumph, which documents her personal journey. By almost any standard Johnson is extraordinarily accomplished, but according to her, the jury is still out.
"I don't know when I'm going to feel totally comfortable with saying, Yes, I'm successful," she says. "Every day I wake up and say, Okay, we've got to learn to take a risk here and take a risk there. Because I also understand I could lose it all tomorrow. It's in learning to be vulnerable and true to yourself and really make sure that you're safe in your space that you can continue to grow your company." And when she needs a moment of solitude to collect her thoughts and retreat from doing it all, Johnson maintains that there's truly no place like home.
"I have the most beautiful farm in the world. I sit on almost 200 acres," she says of her Middleburg home. "I can walk the horses around. It's just the most peaceful place in the world, and I love it."