What Is It Like to Fly EVA Air Royal Laurel Business Class?
Flying with EVA Air in Royal Laurel business class on the Boeing 777-300ER from San Francisco to Taipei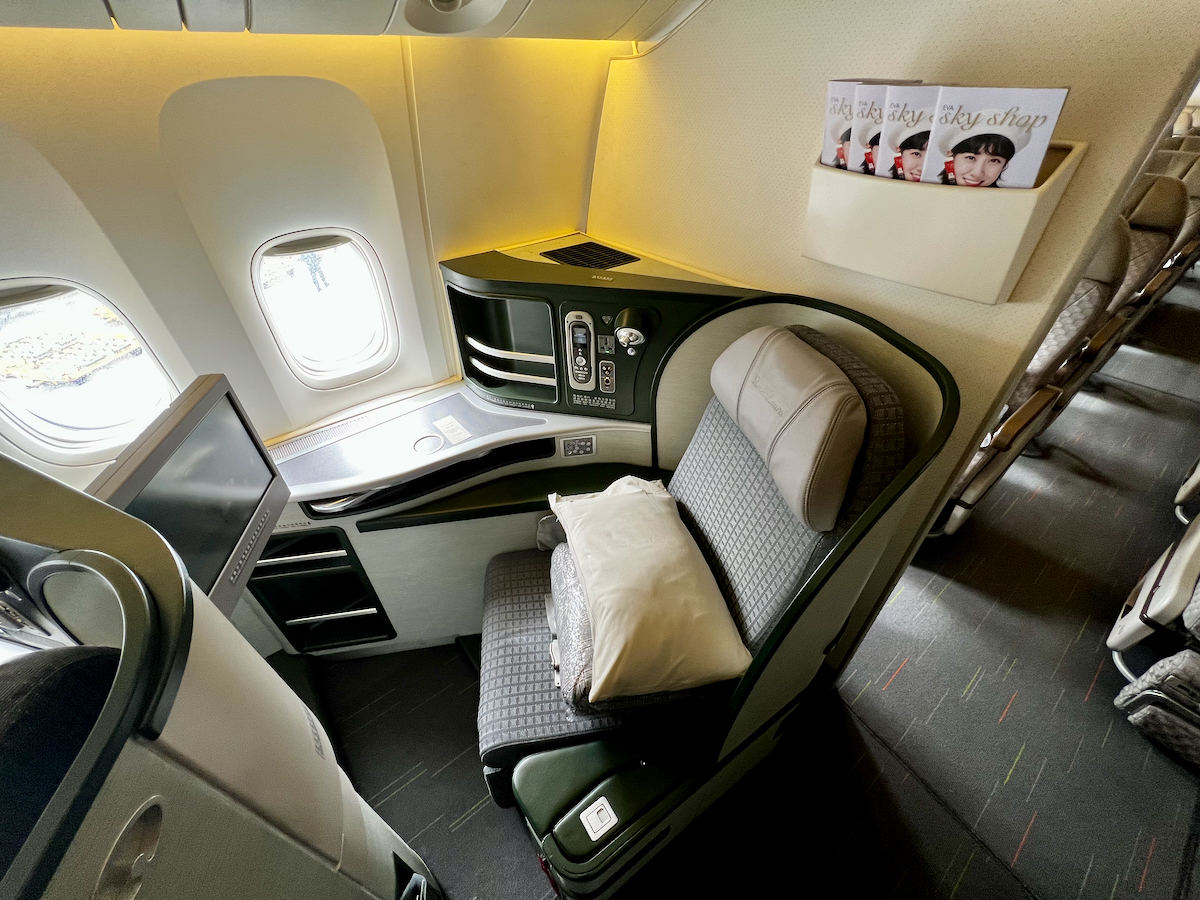 My long-standing desire to experience EVA Air's renowned service was finally fulfilled after nearly a decade of anticipation. In November, 2015, I was invited to observe the delivery of the airline's inaugural leased Boeing 777-300ER at the Boeing factory in Everett, Washington. During this unique encounter, I had the privilege of meeting the airline's former CEO and was struck by the impeccable professionalism of the flight crew, as well as the captivating interiors of EVA Air's aircraft.
This introduction left an indelible impression, and I was eager to explore EVA Air's commitment to safety, cabin service excellence, and expansive global route network.
With anticipation building, an opportunity to visit Taiwan finally materialized, and I promptly secured a round-trip flight from San Francisco, returning to Seattle, allowing me to experience two of EVA Air's finest aircraft: the Boeing 777-300ER and the 787-10 Dreamliner.
Booking the flight with EVA Air was a breeze, and my anticipation only grew as I prepared to embark on a captivating journey from San Francisco to Taipei. From the moment I received my reservation number, EVA's seamless booking process impressed me. 
The airline's app allowed me to pre-select meals and seats for both legs of my journey, making for a stress-free experience. Also, the app guides you through pre-checking-in, automatically delivering your boarding pass with a QR code one day before the flight departs.
I was excited to get a window seat on the rear Royal Laurel cabin, located behind the galley and ahead of Premium Economy, as the flights were quite full. EVA Air promotes itself as "The Best Link to Cross the Pacific," and I was eager to see if it lived up to that claim.
Boarding and Cabin
The day of departure arrived, and boarding commenced at 2 o'clock—almost 90 minutes behind schedule due to a technical malfunction on the aircraft's left main landing gear. 
The boarding process was incredibly comfortable, as all Business Class passengers were allowed to enter the plane directly from the British Airways lounge at San Francisco International Airport (SFO). It was a swift, efficient, and comfortable process.
Once on board the Boeing 777-300ER, two friendly flight attendants escorted me to my seat, which was located in the last row of Royal Laurel class, just before premium economy. Despite the aircraft's 14 years in service, the cabin was pristine, exuding a sense of spaciousness. 
Each seat was furnished with a plush pillow, cozy blanket, slippers, and noise-canceling headphones in a sanitized pouch. The seats were arranged in a standard reverse-herringbone layout with a 1-2-1 configuration.
Behind the business class section was the premium economy cabin, featuring a comfortable 2-4-2 configuration. The ambiance was inviting, setting the stage for a pleasurable long-haul flight.
Immediately after settling into my seat, my attentive flight attendant, Amanda, graced me with a glass of sparkling water garnished with ice, a slice of zesty lemon, a refreshing cold towel, and a delightful chocolate treat.
Amanda also presented the day's menu, although I had already made my dinner selection through the app. I opted for the frittata for the pre-arrival meal. 
The Flight
Just 20 minutes after boarding—an impressive feat—the aircraft's door closed, and the captain forecasted a 13-hour and six-minute flight to Taipei, hinting at some minor turbulence due to the jetstream.
Pushback followed, and Amanda reappeared with a set of pajamas in various sizes bearing the name of fashion designer Jason Wu and the airline's new Giorgio Armani Amenity Kits.
With the luxury of an empty seat next to me, I indulged in the quality of an extra pillow and blanket to enhance my comfort. 
The cabin's lights were dimmed during the flight, and Boeing's signature mood lighting adorned the interior, creating a calming atmosphere. Stars on the ceiling added to the soothing effect. The flight attendants politely requested that all passengers lower their window shades, which I appreciated.
After finishing dinner and enjoying a movie, Amanda offered the turn-down service, transforming my seat into a cozy bed with a plush pillow and a warm cover. I drifted into a peaceful eight-hour shuteye.
Fully awake, I ventured to the lavatory to change into my attire and couldn't help but notice the flight attendants' dedication to cleanliness, ensuring the toilet was spotless for each passenger.
Later, the captain announced our descent into Taipei, with an estimated arrival at 18:55. The flight had passed in the blink of an eye, making it one of the most enjoyable journeys to Asia. We touched down at 18:52, ending a genuinely enchanting flight with EVA Air.
Food and Beverage
The departure from San Francisco marked the beginning of a spectacular culinary journey. An hour into the flight, the attendants started the service with an enticing hors d'oeuvre featuring delectable smoked salmon, cream cheese profiterole, and a deviled egg with bacon. The appetizer was nothing short of sumptuous, a prelude to the following culinary marvels.
During the meal, the server brought an empty glass as a preview of the wine-pairing they had in store for me. I was then presented with two options for red wine: a 2014 French Crozes-Hermitage and a 2021 Australian Boxing Bay Shiraz. I decided to go with the French option and was not disappointed. In fact, Amanda mentioned that it was a popular choice among other diners and ran out quite quickly.
Once the small plate was cleared, they unveiled an exquisite knitted white cloth to adorn the table, elevating the presentation to a level of elegance rarely seen on a plane. Alongside the fine china, they served a side dish with bread, butter, olive oil, salt, and pepper.
Amanda brought out the appetizer: lobster with mango salsa, crab salad, and avocado on a bed of lettuce. The dish was both refreshing and flavorful.
In synchronized harmony, the flight attendants later presented an elegant seafood saffron soup. Though not a seafood enthusiast, this dish was a revelation. The saffron-infused broth, combined with tender scallops and shrimp, created a buzz of elegance, refinement, and succulence rarely encountered in flight.
Next, I was offered a choice of blue cheese or balsamic vinaigrette dressing for the salad, with the latter being my selection. The salad arrived promptly, featuring a medley of asparagus, tomatoes, lettuce, bell peppers, and the tangy vinaigrette. The flight attendant's swift wine refills demonstrated a persistent attention to detail.
In a timely fashion, the pièce de résistance arrived—the beef Wellington, gently covered in Crystal Pink salt and served with Bordelaise Sauce, porcini mushrooms, assorted vegetables, and truffle mashed potatoes.
While it was slightly cooler than expected, the flavors were spectacular, and the tenderness of the beef made it deeply satisfying. This is the first time I have ever been served a beef Wellington on an airplane.
Following the savory courses, the dessert cart beckoned, offering an array of cheese selections and fruit, but I opted for a delectable pear tart, a choice that did not disappoint. The flight attendants, ever attentive, ensured a consistently remarkable dining experience.
Ninety minutes before landing, Amanda and her team promptly served breakfast as we soared over southern Japan.
First, a plate of salmon and an assortment of bread, accompanied by butter and San Pellegrino water. Freshly brewed Illy coffee was then brought to my table.
According to Amanda, a variety of coffee preparations are available, including "Championship Coffees" such as Simple Kaffa and VWI by CHADWANG, as well as more common options like espresso and cappuccino.
Following the first course, the frittata arrived, yet another culinary delicacy that left an indelible impression. It was moist, soft, and bursting with flavor.
The catering service on this flight was exceptional, scoring a remarkable 9 out of 10. The food was delicious and well-presented, with a wide variety of options to choose from. However, the only issue was that the Wellington dish was not served at the optimal internal temperature. Despite this minor flaw, I was thoroughly satisfied with the overall service.
The Seat
In addition to the culinary delights and outstanding service, I took some time to explore the remarkable features of EVA Air's business class seat on the Boeing 777. As I settled, I noticed thoughtful design touches that enhanced the overall comfort and functionality of the flight.
The in-flight entertainment screen immediately caught my attention. While it needs to be stowed and latched during take-off and landing for safety reasons, it can easily be "popped" out to face me, providing an immersive viewing experience throughout the flight. An array of movies, TV shows, concerts, and playlists are available, all enjoyed with top-notch noise-canceling headphones. 
For those who appreciate convenience, a small storage rack nestled under the seat near the foot area proved to be a practical space for stashing items like socks and shoes, ensuring a tidy and uncluttered personal space.
A more spacious storage rack by the window allowed me to keep loose items secure and within arm's reach. It was a convenient feature for organizing belongings and maintaining an organized environment—something other business class seats fail to provide.
Adjacent to this storage rack, I discovered the seat's control panel, which included a reading light, a headphone jack, entertainment controls, and USB and power ports, offering easy access to essential amenities.
Underneath the control panel, I found the intuitive seat controls. EVA Air's Royal Laurel seat takes customization to the next level by allowing passengers to adjust the cushion's exact position within the back seat. This level of personalization is often overlooked by many other airlines.
I also encountered more thoughtful touches on the side of the seat near the aisle. The seat back pocket was conveniently located on the lower portion of the panel in front of me, providing a handy space for storing reading materials or personal items. Additionally, a hanger embedded into the upper part of the panel offered the perfect spot to hang a jacket or even a backpack, ensuring that they remained easily accessible.
The seat's armrest, which was initially lowered, can be easily popped out of its holder to act as a partition between the seat and the aisle. This feature was handy when it came time to get some rest, allowing for greater privacy and comfort during the journey.
Lastly, I highlight the exceptional design of the tray tables, which are among the best designs I've encountered. They effortlessly slide out and fold over, providing a spacious surface for dining or working, yet remain unobtrusive and hardly noticeable when not in use. 
Moving to the amenity kit furnished by Giorgio Armani was nothing short of astonishing. It contained the essentials like toothpaste and moisturizer but also a stunning key holder and a small pouch for credit cards or personal items.
Likewise, the Jason Wu pajamas were a journey highlight, providing outstanding comfort. Wu's dedication to merging form and function for EVA's passengers was abundantly clear.
Verdict
EVA Air excels in its hard and soft products on routes from the United States to Asia. The airline's flight attendants stand out for their remarkable service, characterized by attentiveness, courtesy, and friendliness. Their exceptional fluency in English and meticulous attention to detail add to the overall excellence of the passenger experience.
Despite the age of the aircraft, EVA Air maintains a high standard of comfort. The seats and accompanying amenities, including pillows, covers, and outstanding amenity kits, provide a level of luxury that sets it apart from its competitors. However, one minor drawback is the absence of in-flight connectivity vouchers onboard. Business class passengers may need to pay for Wi-Fi if they haven't received a complimentary voucher via email. This is a minor blemish on an otherwise outstanding flight experience with EVA Air.